Meet Our Prescott Team

Prescott Valley, AZ
Kristin
Admin
My name is Kristin. I have lived in the beautiful city of Prescott for over 20 years and have been in the dental field since 2010. I am excited to rejoin the Bradshaw Family Dental Team after spending the last 4 years as an anesthesia/oral surgeons' assistant. My mission is to provide all of my patients' with the same standard of care we provide for my family.
I have a charismatic and bright little girl, named Harper, who loves to go on adventures with her husky. She wakes up every morning and says, "It's a sunny day," even if it is rainy, cloudy or dark. I am inspired to wake up with that mindset every morning!
---
Robin
Dental Hygienist
I've had the opportunity of working as a dental hygienist in Arizona for over 16 years. I believe it's important to make a positive impact on a patients' dental health by providing compassionate and gentle but thorough cleanings. I am enthusiastic about dental health and teaching others the importance of dental health.
Although I'm new to Prescott, I've lived in Arizona almost all of my life. My husband and myself love the Prescott area and are excited about our recent move to this beautiful place.
---
Stephanie
Dental Hygienist
As a Registered Dental Hygienist my passion for patient care goes beyond cleaning your teeth, but truly making you apart of the Bradshaw Family. I graduated from Santa Rosa Jr. College in May 2021 and immediately moved to Prescott with my husband, two dogs and cat. My husband and I welcomed our first child into this world in May of 2022 and have been loving every minute of being new parents. In my free time you can probably find me working on a remodeling house project or exploring the different landscapes Prescott and Arizona has to offer.
---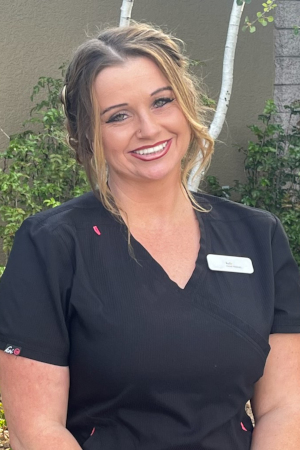 Kelly
Dental Assistant
Hi, I'm Kelly. I have been a certified dental assistant for 8 years and have loved every minute of it. As a child I experienced complications with dental treatment. I've been through the whole process of braces, surgeries, ect. Now I have that beautiful smile that has changed my life! I joined the dental field so I can be a part of that process of giving my patients a beautiful smile for the 1st time is the best feeling in the world. It's the reason I love what I do. Everyone deserves a beautiful smile.
---